Chudleigh pub fire: Money raised for homeless staff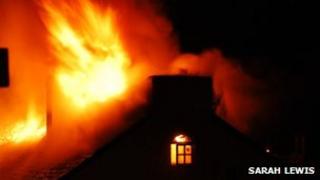 Local residents have raised £1,000 to help staff at a Devon pub who were left homeless when the building was badly damaged by fire.
Investigators believe the blaze, which gutted much of the Old Coaching House, in Chudleigh on Wednesday night, was accidental.
The fire also left a number of staff without a home.
Residents took to the streets with buckets to collect money for them and visited other pubs in the area too.
A quiz evening is also being planned for Friday at the nearby Globe pub to raise funds.
Local resident Chris Fleet said: "The local community has really come together. Stuff has been donated, there's about £1,000 collected now.
"For some of the staff, quite literally the clothes they were wearing for work that night, that's all they have left in the world."
The fire is believed to have started just before closing time on Wednesday.
It took more than 30 firefighters about 24 hours to extinguish the fire in the old building.
The fire came at one of the pub's busiest times of the year with hundreds of people booked in for Christmas and New Year's Eve.
Managers said they hoped they would be able to transfer bookings to a function room separate to the main pub.
However, they said that depended on getting health and safety clearance.