Conway Court Hotel in Torquay 'cut to safe height'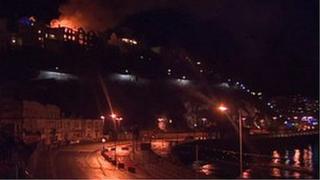 Walls at a derelict hotel in Torquay destroyed in a fire have been brought down to a safe height to deal with some safety concerns, Torbay Council says.
Fire broke out at the former Conway Court Hotel on Monday night and Torbay Road was closed because of fears it may slip down a cliff on to the road below.
Demolition work on the four-storey building began on Tuesday.
However, nearby Warren Road would remained closed while demolition work continued, the council added.
'Gust of wind'
The hotel, above the town's seafront, was left in a "very precarious state" because of the fire, Devon and Somerset Fire and Rescue Service said.
About 80 firefighters tackled the blaze, which started about 21:15 GMT on Monday. No-one was hurt.
The fire forced the evacuation of nearby buildings and the seafront was closed after part of the hotel collapsed.
Demolition on the hotel began on Tuesday night and continued throughout Wednesday.
Each day, about 20,000 people drive along the road below the hotel.
It was closed to vehicles after the incident before being reopened at about 17:00 GMT on Wednesday.
An investigation into the cause of the fire is being carried out.