Occupy Plymouth in court over job centre eviction bid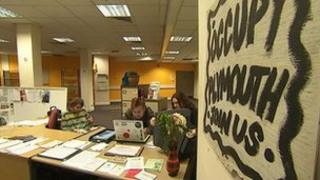 Occupy Plymouth protesters are being taken to court after the landlord of the building they are staying in gave them an eviction notice.
Protesters have been in the disused former job centre, in Buckwell Street, since the middle of December.
The private landlord is a property company called Telereal Trillium.
Legal representatives from Occupy Plymouth will be at the city's Crown Court for the preliminary hearing later.
Campaigners said they had been served with a notice of intent of eviction at the weekend.
One protester, who gave his name as Mark, said: "We gained access to the property completely lawfully, there was no criminal damage committed."
'Hold and reclaim'
Before moving to the former job centre building, campaigners had been camping outside Drake's Circus Shopping Centre, in Jigsaw Garden.
They said the former job centre would enable them to "better engage with the community".
"I hope we can hold and reclaim this building and give it back to the people of Plymouth for as long as possible," Mark added.
The campaigners are supporting a global movement against inequality and corporate greed.
Occupy Plymouth was inspired by the protest camp at St Paul's Cathedral in London and others around the world.
The group began camping in Plymouth at the beginning of November.