Wallaby 'well' after cataract operation in Devon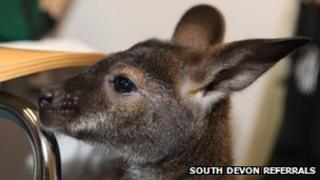 An orphaned wallaby is doing well after having an operation in Devon to remove two cataracts.
Specialists at South Devon Referrals performed the operation lasting an hour-and-three-quarters on nine-month-old Bruce, who is based in Gloucester.
He would have "struggled to look after himself" without it, vets said.
Veterinary surgeon Jim Carter said the procedure "went well" and the marsupial was on his way back home with his owners just hours afterwards.
'Learning curve'
The Abbotskerwell practice said the technique used was the same as that for humans, dogs and cats.
But Mr Carter added: "It's only the second time this has been performed in UK, we believe, so the procedure is a bit of learning curve.
"Dogs return to normal life quite quick, but are on medication for six months afterwards.
"His owners have taken him back to Gloucester and we'll have another look at him in two weeks' time.
"We're pleased with how it went.
"He was under anaesthetic for two-and-a-half hours and the operation itself was an hour-and-three-quarters, so we could put him under and then, gradually, waken him nice and steadily."
Bruce's pupils have returned to their normal colour after being milky white because of the cataracts.