Occupy Plymouth evicted from JobCentre building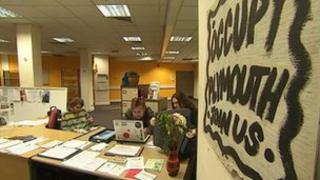 Protesters from Occupy Plymouth have been evicted from a building in the city.
Campaigners had been living in the former JobCentre building, on Buckwell Street. An eviction order was granted by Plymouth County Court.
A police spokesman said the eviction, on Friday, was "very peaceful".
Protesters said they gained "lawful entry" to the building. It is believed they will return to their original campsite at the city's Jigsaw Garden.
About 10 police officers and community support officers supported the High Court enforcement team in evicting campaigners.
Supt Chris Singer said: "There were a number of people inside, but it was all very peaceful and those people have been directed to leave by enforcement officers."
Protester Glynn Rennie said: "I'm a little bit disgusted, it's days before Christmas, I thought they would have left us alone to have our Christmas, but this isn't the end, we'll go somewhere else."
Another protester, Mark, said bailiffs entered the building by a back door "quite early in the morning".
He added: "We're very disappointed by all of it.
"Two days before Christmas they've made people homeless and put people's jobs at risk because they now do not have an address.
"But it's not over. You can't evict an idea."
Prevent from re-entering
The landlord, property company Telereal Trillium, said: "We are pleased that the situation has been resolved peacefully."
Supt Singer said: "The owner of the property will be taking steps to prevent people from re-entering."
On Wednesday, protester Mark had said: "I hope we can hold and reclaim this building and give it back to the people of Plymouth for as long as possible."
He said the group had moved from the garden outside Drake's Circus Shopping Centre to the building to "better engage with the community".
Supt Singer added: "The indication is they [protesters] will return to their tents in Jigsaw Garden."
The campaigners are supporting a global movement against inequality and corporate greed.
Occupy Plymouth was inspired by the protest camp at St Paul's Cathedral in London and others around the world.
The group began camping in Plymouth at the beginning of November.