Administration fears for St Michael's School in Devon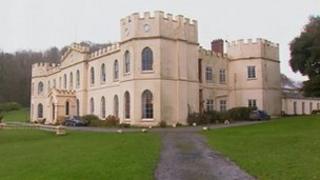 Parents with children at a private school in North Devon have said they fear it may not reopen in the new year.
St Michael's School in Tawstock wrote to parents earlier this week telling them it was in financial trouble and inviting them to an emergency meeting.
Staff have also met with the school's governors and administrators.
No-one from the school has been available to comment, but the National Union of Teachers (NUT) described the situation as a "catastrophe".
St Michael's is a co-educational school and nursery for children aged between three months and 13 years.
Parents said they fear that if the school, which was due to reopen next week after the Christmas holiday, is put into administration they will have little time to find an alternative for their children.
Emma Meredith, whose 11-year-old son is in year six at St Michael's, said she was "absolutely gutted" at the prospect.
She told BBC News: "It's a really important year for a lot of kids... where do you go when you've got two terms before they go to senior school?
"I feel like I'm in mourning."
Stephen Harvey, who has nine-year-old twins at the school, said the uncertainty over the school's future was very unsettling for everyone involved.
Although the reason for St Michael's possible closure had not been made clear at the emergency meeting, he said he believed falling numbers could be one of the main factors.
"It's a fantastic school, but it's dropped 100 children in two years - that's half its pupils and you've got to ask why," he said.
After the emergency meeting for staff, Rod Ruffle from the NUT said: "What essentially we're faced with is the complete closure of a school.
"There's only one word for it - it's a catastrophe."