Tree branch breaks Stagecoach bus windows in Ashburton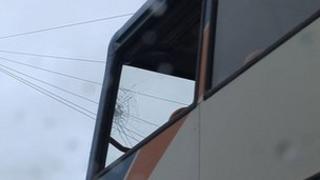 Two passengers were injured when a tree branch smashed through two windows of a bus in Ashburton, Devon.
The accident happened when the Stagecoach double decker bus pulled in to allow a car to pass.
Two passengers sitting upstairs were slightly hurt by broken glass. They received medical treatment at the scene.
Stagecoach said an investigation had begun to determine the cause of the accident.
The X38 service operates between Plymouth and Exeter.
Sgt Jonathan Ross from Devon and Cornwall Police said a "low hanging" branch smashed a front and side window on the upper deck of the bus and two passengers received minor injuries from broken glass.
A Stagecoach spokeswoman said both passengers were treated at the scene and were then able to continue their journey on a replacement bus.