Peradon Farm sheep delivers second set of quadruplets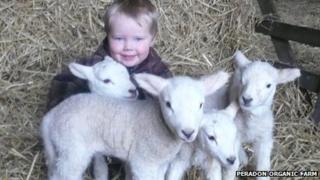 A sheep has given birth to quadruplets for the second time this year on a Devon farm.
Until February, no quads had been born at Peradon Organic Farm near Cullompton for 40 years.
Farmer Jonathan Burrough said his mother Shirley was on the night "vigil" when the second four lambs appeared in the early hours of Thursday.
The lambs - Rudolph, Ralph, Amy and Ruby - are healthy and feeding well from their mother, Polly.
"Mum is just fantastic - what a great sheep... her genes must be really something," Mr Burrough's wife Louise told BBC News.
"We're also fortunate in having one of the best grassland farms in the country, so maybe there's something in the grass."
Mrs Burrough said the "amazing" second multiple birth had secured Polly's future - and that of her lambs.
When the quads were born, Mr Burrough's 78-year-old mother Shirley was covering the night "vigil" to ensure any lambs were delivered safely.
Mrs Burroughs senior was also present when Polly gave birth to the first set of quads in February.
"I pinched myself as I felt sure I must be dreaming when a fourth little lamb appeared on the scene," she said.
"It's incredible to think this has happened on our farm for the second time this year.
"It's some achievement for the ewe to have pulled it off twice in a year."
About 40 lambs have been born at Peradon in the past two weeks.