Delay to fix collapsed sewer angers Ivybridge residents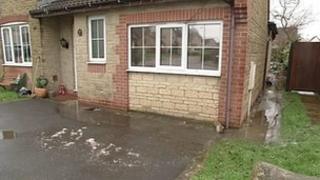 Raw sewage has been running through a housing estate in Devon for more than 24 hours.
About 12 houses in Lydford Close, Ivybridge have been affected and one family has moved out.
South West Water (SWW) said the problem was caused by a collapsed sewer near a gas main.
It said teams were on their way to clear up the external sewage flooding, but residents are angry nothing was done earlier.
Simon Houseman said the sewage started bubbling up at about 08:00 GMT on Saturday.
Warning signs
"We've got sewage on the pavements and toilet paper floating down the road... it's a health hazard," he told BBC News.
SWW has offered an apology to the residents affected.
A spokeswoman said it was the collapsed sewer's proximity to the gas main which had delayed repairs as engineers had to wait until Wales and West Utilities - responsible for gas supply pipes - could supervise a dig.
"We are doing everything we can to resolve the problem and clear-up teams are on their way to clean up external sewage flooding," she said.
"We will continue to tanker away sewage until we get permission to dig down next to their pipe and fix the problem."
But Mr Houseman said, at the very least SWW should have already cleaned the pavements and put up warning signs.
"We can't get through to any senior manager at South West Water to help us of tell us what's happening."
Wales and West Utilities said an engineer had been sent to the site and identified the gas main, allowing SWW to start repair work on the collapsed sewer.