Devon obesity surgery more than doubles in three years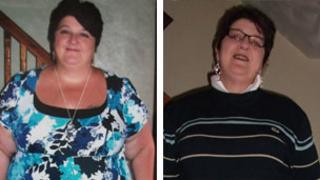 The number of people in Devon having obesity surgery more than doubled between 2008 and 2011.
In 2011, 180 people either underwent a gastric bypass or had a gastric band fitted compared with 77 in 2008, according to NHS figures.
NHS Plymouth said that as obesity levels rose, so did the number of people asking for weight loss surgery.
The UK has more obese women than any other country in Europe, according to European Union figures.
The NHS said bariatric surgery, or weight loss surgery, costs it between £7,000 and £12,000 per operation, making the cost in Devon in 2011 up to about £2.1m.
Deb Lapthorne, director of public health for NHS Plymouth, said: "Patients are carefully selected and monitored before having this type of surgery and other less invasive weight-loss methods are tried first to avoid the risks associated with bariatric surgery.
"For a very small number of patients, who are morbidly obese, a referral for bariatric surgery, either gastric bypass or to have a gastric band fitted, may be the best option."
NHS officials said patients had to demonstrate commitment and psychological readiness, as well as being fit enough for surgery before they will be accepted for surgery.
Debbie Woodward from Exeter had a full gastric bypass in 2008 when she weighed 34 stones.
She said that thanks to the surgery she now weighed 15 stones.
"I had ulcerated legs that I had to have dressed nearly every day," she said.
"I was just eating big portions.
"I had been through a marriage break-up and I was so lonely. Food was my best friend."
She said after the operation, which reduced the size of the stomach so reducing intake, it was impossible to overeat.
"It's absolutely amazing. I love my life. I have gone back to work, I go to rugby with one son and go clubbing with the other.
"We are really enjoying family life as it should have been.
"It was a big step to take to have the operation, but it was the best thing I have ever done."