Weather buoy blown from Ireland to Devon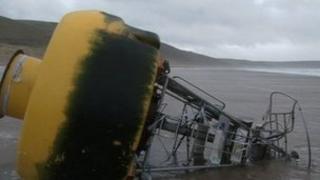 A weather buoy torn from its mooring off the south west coast of Ireland has blown ashore in north Devon.
The M3 weather buoy, belonging to the Irish Marine Institute, broke free during severe weather on 10 December.
Nothing had been heard from the buoy after it was set adrift until 2 January when it restarted, sending signals from Woolacombe Beach.
The Marine Institute said it was working with Swansea coastguard to get it back "as soon as possible".
The M3 is part of a network of five weather buoys providing data for weather forecasts, shipping bulletins, gale and swell warnings.