Thieves raid Donkey Sanctuary money boxes in Devon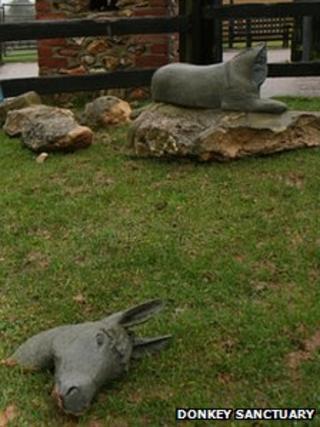 Thieves have raided three stone donation boxes at an animal sanctuary in Devon causing hundreds of pounds of damage.
About £150 was stolen from the boxes at the Donkey Sanctuary, in Sidmouth, early on Tuesday morning.
Thieves removed the stone donkeys from the top of the boxes and smashed the supporting brickwork.
A sanctuary spokesman said they were "completely shocked" by the incident. Police are appealing for information.
Dean Hancock, from the sanctuary, said: "These thieves have not only taken the donations, but the destructive methods they used to attack the donation boxes will cost hundreds of pounds to put right.
"Our visitors donate their hard-earned funds to support our work and we are appalled that this has happened."
A charity spokesperson said it was unclear exactly how much money the repairs would cost.