Hospital criticises Torbay street parking permit plans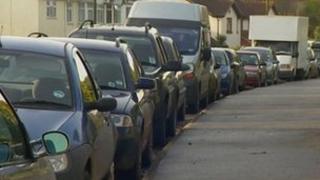 A south Devon hospital has criticised plans by a local council to charge for nearby on-street parking which is used by patients and some health staff.
Torbay Council is planning a permit scheme for parking along Newton Road, close to Torbay Hospital.
The council's proposal is to charge up to £250 a year for a permit. The scheme would not guarantee a space.
The hospital said it was formally objecting to the plan. The council said it needed more revenue for services.
Councillor Robert Excell, of the Conservative-led unitary authority, said: "We've had massive cuts to implement, and this is a way of getting some money for back for frontline services in transportation.
"With concessionary fares, repairing potholes; they're the sort of things we need to keep rolling.
"We need to have a way of generating funds to meet those demands."
If it went ahead, the scheme would be introduced by summer, the council said.