Deaf and blind man Roger Mulholland in Duke award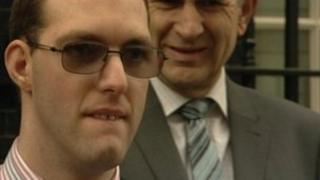 A man who is deaf and blind was among 109 young people in Devon who have been awarded Duke of Edinburgh Gold Awards.
Roger Mulholland, 24, from Tiverton, walked 24 miles of coastal path in Pembrokeshire, Wales, over two days.
The award offers people aged 14 to 25 the chance to serve others and acquire new skills and takes an average of two years to achieve.
Mr Mulholland was among 50 people who received their awards at County Hall in Exeter on Saturday.
His walk raised money for the charity Sense, which made him the Deafblind Person of the Year in 2011.
He also volunteers as a waiter at Cafe 55, Sense's cafe in Exeter, which is staffed by volunteers who are deaf and blind.
The Duke of Edinburgh Awards are run in Devon by the county council, along with 70 schools, colleges and voluntary organisations.
Each participant has to cover five different areas of achievement, a volunteering project, skills, physical recreation, expedition and residential experience.