Conflicts' 'horrible reality' rouses War Horse interest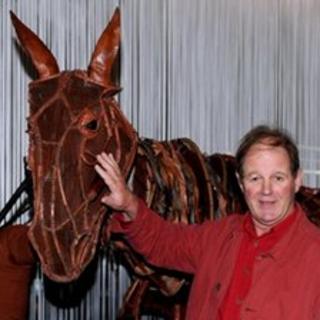 The Devon-based author of War Horse has said new recognition of the horrors of war may be behind recent interest in his 30-year-old novel.
The novel, which was a play and is being released as a Steven Spielberg film, was written by Michael Morpurgo in 1982.
Mr Morpurgo said it was possible that the increased recognition of the impact of conflicts in Iraq and Afghanistan had touched people.
Modern coverage of such conflicts meant they felt "horribly real", he said.
War Horse tells the tale of farmhand Albert Narracott's mission to find his horse, Joey, who has been sold to the British cavalry in World War I by his father and shipped to France where he is plunged into the bloody carnage on both sides of the trenches.
When Albert is old enough to enlist, he embarks on a mission to the trenches to find Joey and bring him home to Devon.
Mr Morpurgo said the novel was not widely read when first published, partly because there were not so many situations meaning people could directly relate to his story.
Speaking to BBC Devon, he said: "I think the reason that War Horse wasn't very popular in this country - and remained not read that often before - was because people felt that war was this old-fashioned thing.
"It was history. It was then, not now. All the wars were far away. They weren't touching our shores. And if our boys were going to other wars, it was quietly.
"But now what happens with Iraq and Afghanistan, all over the world people see the coffins coming home, and they read stories of disabled soldiers and grieving families.
"Suddenly it's real again, and it's horribly real."
He added that the novel was "also about the innocence that is wrecked in wars".
He said: "There is nothing more innocent than a horse, and there's a symbol of Joey rearing up on the wire in No Man's Land and screaming.
"Joey's scream is one I think all humanity feels, because we seem to find ourselves endlessly going back into the situation were we fight wars to solve our problems, and yet we know wars won't solve our problems.
"It's like returning and returning to an old wound and being unable, as a species, to leave it alone. I think that's why it resonates now.
"People recognise soldiers and people on all sides whose lives are damaged and wrecked by war."
The story, by the former Children's Laureate Mr Morpurgo, was adapted for the theatre in London in 2007.
The movie version, directed by Spielberg, is having its UK premiere in London's Leicester Square on Sunday.