Plymouth drops foreign students in shops curb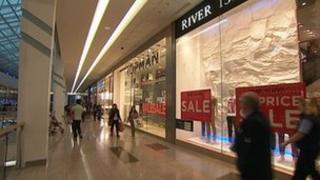 City centre managers have apologised for "wholly inappropriate" suggestions to restrict the number of foreign students allowed in Plymouth shops.
Plymouth City Centre Company (PCCC) suggested the move to the council in a report linking foreign students with shoplifting.
Police said there was no evidence to support the claims.
The PCCC said the restrictions idea had been dropped and the suggestion was an "oversight".
The report to the council panel suggested putting special stickers on shops limiting the number of students allowed in at any one time.
Warning stickers
It said: "Over the past five years we have seen in Plymouth, especially the city centre area, a large influx of foreign students.
"Feedback received from retailers has been that they have experienced an increase in shoplifting and anti-social behaviour from foreign students, incurring large financial losses."
Police reacted by saying large groups of students could give a "perception" of anti-social behaviour, but there was "no evidence to suggest an increase in shoplifting as a result of foreign students".
PCCC said in a statement on Monday that the suggestion to restrict numbers had come from Plymouth Against Retail Crime (Parc) - a group of local retailers.
It said: "Plymouth City Centre Company can categorically state that none of the suggested actions within the report by Parc in relation to foreign students will be implemented in Plymouth.
"These early suggestions, first discussed in September last year by Parc members, were deemed wholly inappropriate by Plymouth City Centre Company and the police.
"Having already been dismissed, their inclusion in a report to the city council was an oversight for which we apologise."
It added: "Plymouth is home to scores of language schools and we welcome thousands of students each year.
"We continue to work closely with language schools to ensure that students feel welcome, enjoy our city and have all the information they need for a safe and responsible stay."
No-one was available for comment from Parc.