Former Plymouth Naval officer criticises planned defence cuts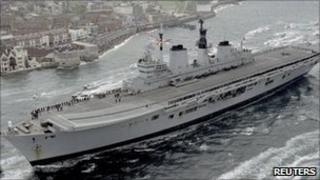 A former Royal Naval officer from Devon has criticised planned defence cuts.
Steve Bush, from Plymouth, said the 2010 Strategic Defence and Security Review (SDSR) was a "budget driven review, not strategy driven".
Mr Bush, the author of British Warships and Auxiliaries, said it would be harder to prioritise with fewer ships.
But the Ministry of Defence (MoD) said its "capability to project power around the world at short notice" had been proved with its intervention in Libya.
Increasing commitments
Mr Bush, who served for 22 years, said in 1997 the Royal Navy stated 32 frigates and destroyers were the minimum needed to carry out its commitments.
"Since then we've had the global war on terror, we've got anti-piracy patrols increasing the Royal Navy's commitment yet today we only have 19 frigates and destroyers.
"The fewer ships you've got, the harder you've got to work the crews."
Mr Bush said the 2010 review had been based on the ideal that "nothing out of the ordinary is going to happen".
'Critical time'
Oliver Colville, Conservative MP for Plymouth and Devonport, said he was also concerned about defence cuts.
"I think it's very worrying and concerning but we need to try and make sure that we sort out our budget deficit."
"If we don't do that then frankly there won't be a navy, or a country or anything. This is a very critical time."
In a statement, the MoD said: "As we have proved there [in Libya] and with our current operations in Afghanistan, the adaptive posture of the SDSR allows our Armed Forces to respond to a number of concurrent scenarios."
As part of the SDSR it was announced the Ark Royal would be decommissioned, the navy would lose 5,000 personnel and its surface fleet would be cut from 23 to 19.
British Warships and Auxiliaries is an annual publication which details the assets of the Royal Navy.