Attack on Tiverton car man prompts accommodation offer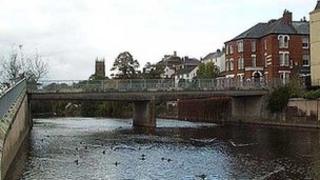 An elderly man who has been living in his car since Christmas Eve has been offered a home in a Devon town.
Police in Tiverton stopped Harold Gledhill on 24 December and put a prohibition notice on his car.
He had originally refused help from the homelessness team at Mid Devon District Council.
But after he was head butted and his car's windscreen was smashed on Tuesday, he accepted accommodation from a letting agency.
Mr Gledhill had been given a hot meal and a hot water bottle every evening by local resident Pam Mulgrew and her partner Phil Quinn.
Ms Mulgrew described him as "confused, vulnerable and about 70 years old".
'Good resolution'
"I think he's originally from Yorkshire, but he doesn't have any relatives," she told BBC News.
"He's a bit confused, but I gather he had a very good life working in Spain for about 30 years as a marine carpenter and delivering boats all over.
"For the past five years he's been travelling through Europe with just a tent and a bike in the back of his car.
"He doesn't give much away, so I don't really know what brought him to Tiverton."
The council said the accommodation was a "good resolution" to what it had earlier described as an "unusual and sad situation".
Council spokesman Andrew Lacey said: "We understand that Mr Gledhill has now accepted the offer of private rented accommodation, which we feel would be a good resolution of this situation.
No charges
"Our homelessness team has been offering advice from the outset, and if for any reason Mr Gledhill finds that he still wishes to discuss his housing situation with us, he is very welcome to come in to Phoenix House and see us."
The council said that if Mr Gledhill stopped living in his car it would not be allowed to remain on the street indefinitely.
"If the car is not removed once Mr Gledhill's accommodation needs are sorted out, then we would treat it like any other abandoned vehicle," Mr Lacey added.
Devon and Cornwall Police said officers had investigated the assault on Mr Gledhill, but he had chosen not to press charges.