Flyers say Plymouth police officers are corrupt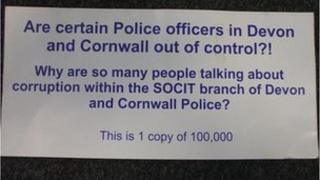 Flyers accusing the police of corruption have been put on car windscreens across Plymouth.
Dozens of the flyers were found, accusing the city's Serious and Organised Crime Investigation Team (Socit) of being "out of control".
Five officers are named in what the police say is a "potentially libellous" campaign.
Officers say it could be "payback" by the city's criminal fraternity after a series of high-profile convictions.
The flyers were first found in the Mayflower Street car park soon after Christmas.
More have been found on cars in the last few days in other parts of the city including Mutley, Lipson and Mannamead.
They say: "Why are so many asking if names such as" - and then lists five names - "to name a few, are corrupt?"
Police are checking CCTV footage and are calling for witnesses to contact them.
Det Insp Mike Cooper said: "We have had some major convictions recently which has made major inroads into the criminal fraternity.
"I think this is possibly some kind of payback."
He added: "I can assure you that the names listed are definitely not corrupt and it is definitely a malicious and slanderous remark."
Each leaflet says it is a one copy of 100,000.
"We have not recovered anywhere near that number," said Det Insp Cooper.
"I would be very surprised if people would be able to put that number out.
"But if we need to recover that amount we will."
Members of Socit are involved in numerous high level inquiries in the city.
A spokesman for the Devon and Cornwall force said: "Devon and Cornwall Police are aware that a number of flyers which make derogatory and potentially libellous remarks about serving officers have been left on car windscreens in the Plymouth area.
"Anyone who has received such a flyer should contact the police detailing when and where they saw the flyer so that further investigations can take place."