Tavistock College out of special measures after two years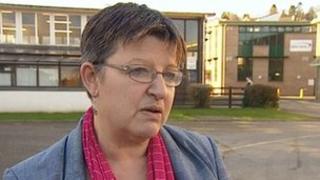 One of Devon's largest secondary schools has been taken out of special measures by Ofsted after two years.
Tavistock College, which has 1,726 students, was classed as failing in 2010 after inspectors said students were not making acceptable progress.
Headteacher Helen Salmon said she sacked eight members of staff, which helped raise overall standards.
"This school has every capacity to be outstanding, we're not there yet, but that's where we're going," she said.
Ms Salmon added: "The thing you have to do is improve the quality of the teaching and learning.
'Collapsing fabric'
"Sadly some colleagues did leave. I did eight capability processes last year, which is a lot for a school. I don't take that lightly."
Ms Salmon was appointed to the position at Tavistock College in September 2010, after the school had been placed in special measures.
Alison Stoneham, whose son goes to the college, said the "fabric" of the school had been "collapsing" but she had seen results "fairly instantly" with the appointment of Ms Salmon.
Her son Tom said: "The teachers that they replaced affected my classes and enthusiasm from the younger teachers was tremendous in comparison."
The Ofsted report said the overall effectiveness of the school was "satisfactory" and the capacity for sustained improvement was "good", as was the sixth form.
It said the school needed to improve the variation in students' achievements across subjects and there were "too many lessons in which teaching is satisfactory."
Fiona Westward from the NASUWT teachers' union said removing teachers to improve a school was a "fundamentally misguided concept" but added "I don't think eight is excessively high."
She said anecdotally the NASUWT found there was often a link between older teachers and capability processes.
"There's a new regime at the school, a new head comes in, they want certain things, people who are in that category don't feel able to comply.
"There are many influences on what contribute to quality of teaching, and it's about how that's addressed."