Occupy camp asked to leave Exeter Cathedral Green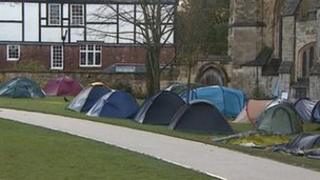 Activists who have been have been camped illegally on Exeter's Cathedral Green since November have been asked to leave the site.
The cathedral said on its website that a number of incidents had put the relationship of goodwill between it and Occupy Exeter "under great strain".
It said that it was allowing a stall to be set up on the green as an alternative.
Occupy Exeter said it was working on its response.
The cathedral said it met members of Occupy Exeter just before Christmas to discuss concerns regarding the camp.
It said it explained how difficult it was to have a "positive dialogue" about how to work together on issues of common concern whilst the camp was sited illegally on its land.
The cathedral said people who lived beside the green had found noise, mess and some of the activities of the occupation disruptive.