Ex-dental technician Stephen Sickelmore's laundry room lab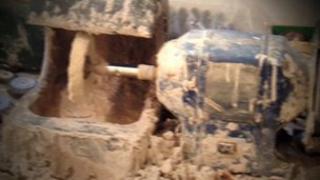 Former dental technician Stephen Sickelmore has been described as "a charlatan" by a judge after conning hundreds of people across Devon and Cornwall out of thousands of pounds for shoddy dentures made in a squalid laundry room at his home.
Modern dentures are made with great precision and measurements are taken to fractions of a millimetre.
High quality materials, like titanium and specially designed plastics, are used to make them as comfortable, hard wearing, and natural looking as possible.
Dentures made by Stephen Sickelmore were made from poor quality materials in the dirty surroundings of a laundry room in the back of his home in Dawlish.
Client 'violated'
The Denture Clinic looked more like a dirty pottery studio than a dentist's laboratory.
Laura Hempstead was one of 200 people conned by Sickelmore.
Her dentures cost more than £700, but they were so shoddy she wore them only once.
"I feel quite violated," she said.
"He betrayed my trust. He took money when he shouldn't have done."
Trading standards officers who raided Sickelmore's home found a filthy makeshift laboratory in the laundry room with no proper sterile area.
Peter Greene, of Devon Trading Standards, said: "We were frankly appalled.
"This type of activity is very strictly controlled and regulated as you would expect. We didn't expect to find anything like this.
"This wasn't a proper laboratory and certainly wasn't somewhere where people should have been preparing things to go in people's mouths."
'Very dirty'
David Smith, who runs Phoenix Dental Castings in Exeter, called Sickelmore a "do-it-yourself dentist".
Mr Smith, who is also a member of the General Dental Council (GDC), the industry regulator, said: "He set up in a room in his house.
"There was no health and safety. Things were very dirty.
"It was not the sort of atmosphere you would want in the high technology type of work that we do."
Properly qualified dentists and technicians are registered with the GDC.
The advice to avoid fraudsters like Sickelmore is to check a practitioner with the GDC before going ahead with any treatment.