Occupy protesters 'to stay on Exeter Cathedral Green'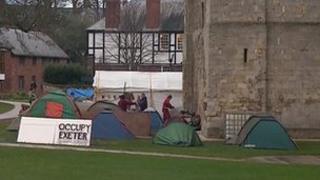 Activists who have been camping illegally on Exeter's Cathedral Green since November say they are to remain on the site.
Occupy Exeter was asked by the cathedral to leave after complaints about noise, mess and disruption.
The cathedral said some incidents had put the relationship between it and the group "under strain", but that a smaller presence could be maintained.
But the group said it could not agree to such terms.
The cathedral said people who lived beside the green and visitors had found noise, mess and some of the activities of the occupation disruptive.
'Only green space'
It said that it would allow a stall or a gazebo to be set up on the green as an alternative.
The group met representatives of the cathedral on Friday morning.
The anti-corporate greed protesters told the cathedral: "Our presence on the cathedral green is - as it has always been - because it represents the only green space with high public footfall in the city.
"Thank you for the offer of another tent. However, your terms would seem to nullify the very essence of our movement - Occupation - and could not, therefore, be considered as a basis for a genuine partnership."
It said it was waiting for the cathedral's response to its message.
The cathedral said its chapter was meeting to consider its response to the group's comments.