Devon rise in Christmas Day worshippers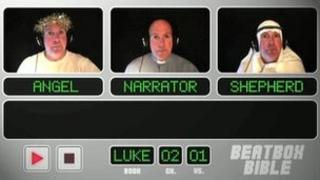 Churches in Devon saw a big increase in people coming to Christmas Day services, said the Diocese of Exeter.
At Exeter Cathedral, people queued across the Cathedral Green for Christmas Eve carol services and several hundred had to be turned away.
The diocese said the "surge" in numbers was "very encouraging".
The Reverend Mark Searle, priest-in-charge of Torquay St Mary Magdalene, said they had the largest Christmas day attendance for seven years.
He said: "All our services were full and the Christmas day service increased from 40 to 109 people which was a great encouragement.
"We were surprised and delighted to see so many people, both regulars and visitors."
The Reverend Gordon Percy, of Torquay St Matthias, said its three Christmas services were very well attended.
"Christingle at 5pm was packed to the gunnels, as was the midnight service and the 10:30 service the following morning," he said.
Uplyme parish church's beatboxing vicar, the Reverend Gavin Tyte, used a "nativity rap" in his Christmas Day sermon and more than 200 people attended his small parish church for carol services.
The Bishop of Exeter, the Right Reverend Michael Langrish, said: "The surge in churchgoers over the Christmas period, and in particular the increase in family attendance, is very encouraging
"The Diocese of Exeter is committed to growing and we are beginning to see the first fruits of that commitment."