St Michael's Nursery in Tawstock re-opened by parent group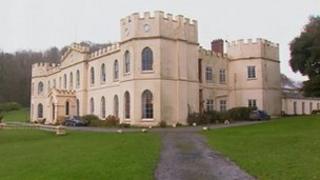 A nursery with 28 staff has re-opened in Devon after it went into administration before Christmas.
St Michael's nursery in Tawstock near Barnstaple opened with 75 children aged from three months to four years.
It had been a co-educational school and nursery for children up to 13 years, but went into administration last term due to financial difficulties.
Parent-teacher group, Tawstock Court, has been allowed to run the nursery until 30 June.
'Community spirit'
Gordon Gurr from the group said: "This project from the beginning has all been based on hope.
"We've tried hard to put these things in place and getting the nursery open was a big boost to us all.
"The next stage, to try to open something of the main school, is a much bigger hurdle, but we're all very determined and there's a very good community spirit behind us."
The main school did not re-open after Christmas, affecting about 40 children, because Tawstock Court could not accept the "scale of the employer's and redundancy liabilities".
But it said it would accept the responsibilities of the nursery because it was running at full capacity.
Nigel Morrison from administrators Grant Thornton, said: "Understandably when dealing with young children, there were numerous regulatory and legal issues to be resolved which, in conjunction with our duties as administrators, inevitably took time to address."