Devon thyroid cancer singer to support Joan Armatrading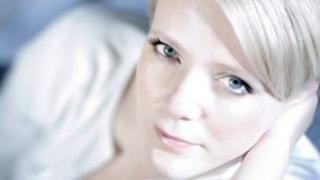 A Devon singer who was diagnosed with thyroid cancer is to support Grammy nominee singer-songwriter Joan Armatrading at a show in Dorset.
Ellie Williams, 31, from Exeter, was diagnosed last May and had an operation on her throat later in the year.
Despite fears her throat could have been damaged, she has regained her voice and is to support Ms Armatrading after winning a spot for unsigned acts.
She said the news was the "best start" she could have had for the New Year.
Courage from feedback
Ms Williams had her thyroid gland removed in the operation last June after her diagnosis, which she said came "as a bolt out of the blue".
It resulted in her halting touring and having to stop work on the follow-up to her 2009 debut album, Unseen.
She was told by her surgeon that there was a risk the operation could damage her vocal chords and, for a while, she did not know whether she would be able to sing again.
However, the procedure was a success and, at the end of 2011, she began rebuilding her career by singing on John Govier's Saturday morning show on BBC Radio Devon.
She said: "I chose to make my first public appearance on John's show because he's supported me right from the start when I was recording Unseen.
"He's become a good friend and his listeners seem to have taken me to their hearts too. The feedback to that performance gave me the courage to do more."
Just before Christmas she sent a couple of tracks to Joan Armatrading's website after hearing about a search for local unsigned musicians to perform on the three-time Grammy nominee's 2012 tour.
"I knew it was an amazing opportunity, but I guess I didn't really expect to hear from them again.
"So when I received an email this week telling me I'd been chosen to join Joan at The Lighthouse in Poole this November, I screamed so loudly my husband thought there was something wrong."
She will also be sharing the stage with BBC Radio 2 Folk Awards Singer of The Year 2011 Chris Wood in front of a potential audience of 2,500.
She said: "This is the best start I could have had to the New Year. There'll be no stopping me now."