Exeter Airport customs seize 29,400 cigarettes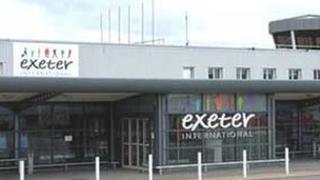 Thousands of smuggled cigarettes have been seized at Exeter Airport.
They were taken from a 40-year-old woman travelling through the airport en route from Dubai to Belfast.
The UK Border Agency said two items of the woman's luggage contained 29,400 cigarettes - 147 times the allowance of 200 from a non-EU country.
If the tobacco had been sold in the UK, it is estimated the Treasury would have lost about £5,500 in revenue.
'Tax burden'
The cigarettes were seized but the woman was allowed to continue her journey.
Jane Farleigh, the agency's regional director, said tobacco smuggling was a serious offence and increased the tax burden on everyone.
Although there are no limits on the amount of tobacco which can be brought in from EU countries for personal use, passengers with more than 1kg of tobacco or 800 cigarettes are likely to be questioned.
If officers believe the goods will be sold for a profit, the items will be seized.