High Cross House at Dartington opens to public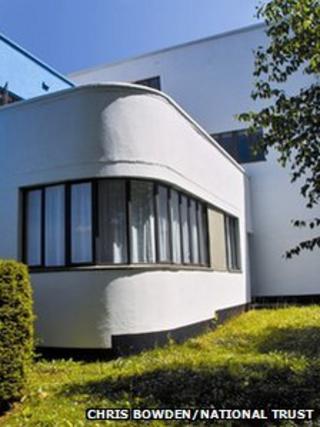 A house built in the 1930s for the first headmaster of the famous Dartington Hall School in Devon is opening to the public in March.
High Cross House at Dartington is considered to be one of the UK's best examples of Modernist architecture.
The Dartington Hall Trust has leased the property to the National Trust for 10 years.
It will be used as a centre for contemporary arts, with exhibitions from well known and local artists.
High Cross was commissioned by Leonard and Dorothy Elmhirst, the founders of Dartington Hall School, as a "machine for living" for William B Curry, the first headmaster chosen to lead the progressive co-educational school where there was little formal classroom activity and children learnt by involvement in estate activities.
The house was designed by Swiss-born American architect William Lescaze and inspired by the De Stijl abstract movement.
The original Bauhaus furniture in the house will be displayed in the living and dining rooms while the rest of the house will be displayed unfurnished.
In the first few months High Cross House is open, local residents will be given the opportunity to suggest how the rest of the property should be presented.
National Trust manager Robyn Brown said: "High Cross is among the top five Modernist houses in the country.
"It is a fantastic, brutalist architecture, as you can see very clean lines, very machine-like and indeed that is what it was designed as - a machine for living."
Although more commonly known for its stately homes, the trust said High Cross House is not its first modernist building.
"We have Willow Road in London and of course we have taken on the Beatles' houses in Liverpool, so the departure isn't that new," Ms Brown said.
Dartington Hall Trust's chief executive Vaughan Lindsa, described the partnership with the National Trust as "exciting".
"We hope the partnership will bring many new visitors to the estate to enjoy High Cross House, explore Dartington's glorious grounds and gardens and find out more about our charitable programmes in the arts, social justice and sustainability."