Torbay Hospital help for depressed mothers-to-be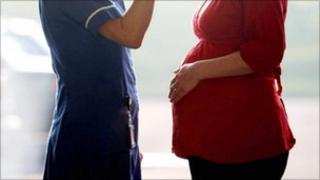 A support service for women suffering depression during pregnancy has been officially launched at Torbay Hospital.
A team of mental health nurses, consultant psychiatrists and midwives has been on hand since August 2011.
More than 200 women have been helped by the team so far.
The launch of the service follows a recommendation in 2010 by Torbay Safeguarding Children Board for improved services for pregnant women with mental health concerns.
Consultant psychiatrist Dr Jo Black said a "significant number" of pregnant women suffered depression.
Rapid assessment
She said: "Expectant mums can feel guilty, ashamed and embarrassed by feeling low at this time in their life.
"In many cases, the ability to discuss these feelings, and receive reassurance and support, can be enough to turn things around without the need for any mental health intervention.
"In some cases, however, problems can be severe and may even pose a risk to the wellbeing of both mother and child.
"Our new perinatal service aims to identify potential mental health problems as early as possible and provide rapid assessment, support and access to appropriate treatment."
The team, which includes two full-time mental health nurses, is based in the hospital's maternity unit.
Rachael Glasson, matron for antenatal and community maternity services at Torbay Hospital, said: "Before the service was established we had access to mental health advice and support, but it was very much an add-on to the rest of the mother's care.
"Now it forms an integral part of the maternity service that we deliver, which is far better for everyone concerned."