Poll call over Devon quarry ash recycling plan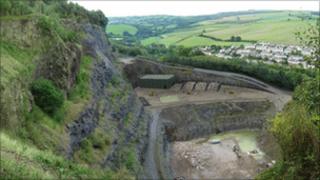 A Devon community group is calling for a parish poll be held to gauge local opinion over plans to recycle ash.
The firm MVV Umvelt, which is building a new incinerator in Plymouth, wants to recycle ash from the city plant at Whitecleave Quarry in Buckfastleigh.
People have raised concerns about increases in noise and effects on health. They said the poll would emphasise their concerns.
MVV Umvelt said materials used would be non-toxic.
The company wants to build a plant at the quarry to turn the ash, which it said would be inert, into material for road-building and other construction work.
The poll, which is similar to a referendum, would enable residents to vote either for or against the plan.
Buckfastleigh Town Council has already objected to the plans.
Neil Smith, from the Buckfastleigh Community Forum, said: "We're still pretty confident at the moment that we're going to defeat this.
"This is just another straw that we hope will break the camel's back."
The company said people's fears about the plan were unfounded and it had made changes to appease them.
If built, about 56,000 tonnes of ash a year would be taken to the plant.