Occupy Exeter to fight cathedral grounds eviction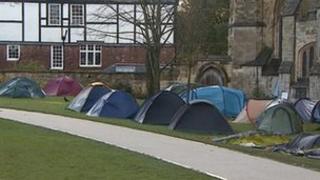 Protesters camped outside Exeter Cathedral have said they will fight eviction by church authorities.
Occupy Exeter, part of a global movement against inequality and corporate greed, has about 30 tents on the Cathedral Green.
Protesters have been served with letters by church authorities demanding they leave immediately and threatening legal action.
The group said in a statement: "We're not going away."
The statement said: "The cathedral have now said that they will go to law. Although we deplore this move, and would rather move forward through negotiation, we are ready for whatever is to come.
"Occupy Exeter is not going to go away. If you evict us from the Green, we will pop up somewhere else.
"You can't evict an idea. As long as there are gross inequalities in society, as long as there are a few making profits from the misery of the many, there will be people like us who are prepared to stand up and be counted."
The protesters have been in place since November and previous requests by the cathedral to leave the site have been rejected.
The diocese also said the group could keep a stall on the green to maintain its presence, but that was rejected by protesters.
It said it regretted having to issue the letters, but claimed the camp had become a focus for anti-social behaviour and it would go to court to secure eviction orders if necessary.