Two St Cuthbert Mayne School pupils have meningitis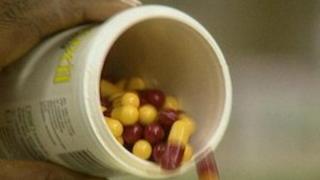 Two teenagers at a Devon secondary school have been treated for meningitis.
The Health Protection Agency (HPA) confirmed the year nine pupils from St Cuthbert Mayne School, in Torquay, had the meningococcal B strain of the infection.
A third child - from Torquay Community College - has been admitted to hospital with suspected meningitis.
Antibiotics were offered to 190 year nine pupils at St Cuthbert Mayne.
The bacterial infection, which causes inflammation of membranes surrounding the spinal cord and brain, is potentially fatal and causes more than 100 deaths a year.
The HPA said it was working closely with Torbay Care Trust and the schools.
Investigations so far have uncovered no link between the suspected case at Torquay Community College and the two confirmed cases at St Cuthbert Mayne.
St Cuthbert Mayne has about 1,100 pupils aged between 11 and 18.
Parents have been given information on the signs and symptoms of meningitis, but the HPA said there was no reason to keep children away from school or other activities as the risk of infection was "low".
"We are not offering antibiotics to any other St Cuthbert Mayne year groups at this time, because there is no evidence that the meningitis bacterium is in circulation wider than year nine," Dr Geoff Thould, from the HPA, said.
Parents of children at St Cuthbert Mayne had "responded" well to the news, Dr Thould said, but he called on them to remain vigilant.
'Race against time'
"Most children will have received vaccination against the group C strain of meningococcal infection, but there is no vaccine available for the more common B strain, so vigilance for symptoms is always required."
Meningitis UK said parents should always trust their instincts and seek medical help if they suspected their child could be affected.
The trust's patron Dr Phil Hammond said: "As a doctor, meningitis is the disease which you are terrified of misdiagnosing.
"It is a race against time to save a life which is why I believe strongly that listening to your gut feeling is the right thing to do and can help doctors make an earlier diagnosis.
"Missing the signs of meningitis can have the most devastating outcome for a family so I would encourage people to have the confidence to speak up and question their doctor if they still fear meningitis."
Cathy Gilfillan, head teacher at Cuthbert Mayne, said in her six years in charge it was the first time pupils at the school had contracted meningitis.
"Everyone is very aware of the dangers, so there was an immediate alert and the HPA liaison with the school was very quick and very smooth," she told BBC News.
HPA staff visited the school and spoke to all year nine pupils.
"I'm very pleased to say one pupil has fully recovered and is back at school and I believe the other has just been released from hospital," Mrs Gilfillan added.