Torbay knife amnesty nets 120 weapons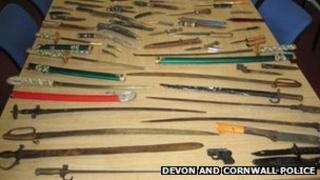 A 10-day knife amnesty in south Devon has resulted in more 120 weapons being surrendered, police say.
The operation in Torbay saw knives, swords and other bladed weapons being handed in, Insp Adrian Leisk, of Devon and Cornwall Police said.
The amnesty, which allowed people to hand in items anonymously, was started after officers said there had been an increase in "knife related incidents".
They included three stabbings in the bay over the Christmas period.
Weapons handed in included "everything from carving knives to Samurai swords," the force said.
A number of flick, butterfly and gravity knives - which are illegal - were also placed in surrender bins at Torquay and Newton Abbot's police stations
Other items deposited included a starting pistol, World War I bayonets, machetes and one khukuri Gurkha knife.