Teignmouth salvage company takes on Girl Rona recovery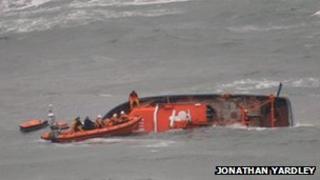 A salvage company has been contracted to recover a trawler which hit a sandbank and capsized off the Devon coast.
Five crewmen were rescued from the Girl Rona at the entrance of Teignmouth harbour on Monday.
It was carrying about 2,000 gallons of diesel and nearly 20 tonnes of fish.
Teignmouth Maritime Services will take on the recovery after local efforts were "exhausted". Two attempts to right it have so far failed.
Jeremy Lyn, from Brixham Coastguard, said: "The main reason they haven't been able to do anything with it is they can't clear the water out of the fish hold and the other spaces on the boat.
"With the heavy easterly winds and swell, the water is going back into the boat and making it capsize again."
Mr Lyn said: "It's now being contracted out to another salvage company that's got heavier lifting kit and more expertise."
The local inshore RNLI lifeboat rescued the crew who managed to scramble on to the side of the vessel.
There were no reports of any injuries, but the RNLI said its lifeboat sustained some damage during the rescue.