Voyage of Recovery sailing for drug and alcohol addicts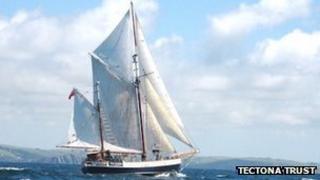 Alcohol and drug addicts could be offered a rehabilitation programme sailing around the coast of Britain.
During the 12-week "Voyage of Recovery" up to 160 addicts will work aboard the Tectona and be taught how to sail.
The 1,800-mile (2,897km) trip, starting in Plymouth on 1 August, has been organised by two charities - Phoenix Futures and the Tectona Trust.
The impact of the voyage on those taking part will be studied by Phoenix, Tectona and Plymouth University.
The voyage will be split into will five-day legs for teams of 12 to allow as many people as possible to take part.
'Life changing'
The Tectona will sail from Plymouth on 1 August to Portsmouth for the "official" start of the voyage around Britain.
Duties on board will include navigation, manning the sails, hauling up anchor as well as preparing meals and keeping the ship clean.
The idea for the sailing programme came from Stuart Plant and Darren Long as part of Phoenix Futures' Innovation Factor, which encourages people to think about new ways of overcoming addiction.
Mr Plant, a residential manager for Phoenix, said while sailing was hard, physical work, it involved working as part of a team and helped to boost people's self-esteem and confidence.
Mr Long, a former addict, who now volunteers for the Tectona Trust, said sailing had been "life changing in more ways than anyone could imagine".
Karen Biggs, Phoenix Futures' chief executive, said: "The Voyage Of Recovery is the latest of a series of innovations that we have championed.
"Our long history of delivering recovery services has shown us the importance of continuing to find new and imaginative ways to inspire people to take those important steps toward tackling their addiction."