Devon zoos coping with freezing weather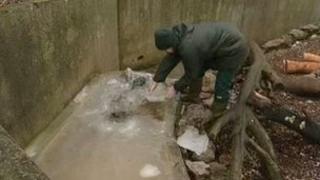 Staff at the two Devon zoos are making sure animals are comfortable in sub-zero temperatures.
Torquay's Living Coasts and Paignton Zoo said they prepared for the cold.
Extra bedding was being provided for animals, and work would ensure that ice was broken if it formed on water troughs and lakes, the zoos said.
Paignton Zoo added that its Gardens Department also had its own mini gritter for footpaths. Temperatures are to drop to -3C (27F) over the weekend.
'Hard on keepers'
Phil Knowling, from Paignton Zoo, said: "A lot of species are very adaptable - you get cold nights even on the plains of Africa.
"Extra bedding is provided for bongos, tapirs and zebras. We make sure our animals have all the warmth and shelter they need.
"But some animals choose to sleep outside, even in cold weather. It is the wet they do not like so much - cassowaries, for example.
"Some birds are moved indoors in anticipation of cold weather, others are moved if and when it comes.
"In cold weather, the most important thing is to stop ice forming on water troughs and in the lakes.
"Mediterranean tortoises go into hibernation, but the giant tortoises will often opt to go outside in the winter.
"This weather is probably hardest on the keepers, as the care, feeding and mucking-out of livestock goes on regardless, even when it's freezing cold outside."
Temperatures were to drop to -3C (27F) in parts of Devon over the weekend, forecasters said.
A weather warning has been issued by the Met Office for snow around the north and east of the county, with roads expected to very icy too until Sunday.