David Cameron in Plymouth enterprise zone gaffe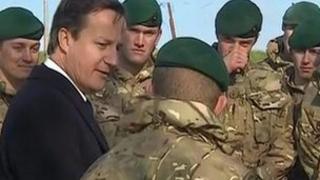 Prime Minister David Cameron has been accused of a "hugely embarrassing" gaffe when he referred to a non-existent enterprise zone in Plymouth.
In an interview in Plymouth he said the government was helping a private sector recovery, adding: "That's what the enterprise zone in Plymouth is about."
But the government rejected Plymouth's bid for enterprise zone status last August.
Downing Street said Mr Cameron's comments were a "slip of the tongue".
A spokeswoman said: "It was an error. I am sure that he is very aware of everything that's going on in Plymouth."
'Slap in face'
Mr Cameron was visiting the headquarters of the Royal Marines in Plymouth as part of a whistle-stop tour of the city.
He said: "We're doing everything we can to help bring about a private sector recovery.
"That's what the enterprise zone in Plymouth is about.
"That's what the low corporation tax and investment in apprenticeships is about."
The city council's Labour group leader Tudor Evans said: "It's hugely embarrassing for Mr Cameron.
"It's a real slap in the face for Plymouth that he does not seem to be aware that Plymouth lost out in its bid for enterprise zone status.
"Perhaps he can make it up to us, dig out the application and take another look."
An enterprise zone is a designated geographical area in which businesses enjoy favourable tax credits, financing and incentives to encourage new businesses an an area.
Councillor Evans said an enterprise zone was "not a panacea, but is part of a cocktail of incentives Plymouth wanted to offer".
The city is pushing ahead instead with plans for a Marine Energy Park.
The £25m package announced in 2010 includes £7m from the former South West Regional Development Agency, £4m from the Department for Business Innovation and Skills and the Department of Energy and Climate Change, £11.8m from the University of Plymouth and £1.5m from Plymouth City Council.
'Wonderful businesses'
Sheryll Murray, Conservative MP for South East Cornwall, said Mr Cameron was "mistaken" but said the prime minister could have been referring to the Marine Energy Park "and felt it could have been an enterprise zone".
She said: "We have some wonderful businesses in Plymouth and we are doing a lot to help to help private enterprise to grow."
A city council spokeswoman said: "We are pleased that the prime minister associates Plymouth with enterprise and it is recognition that we are doing some great things here, despite not having zone status.
"The city council and its partners have embarked on a huge number of initiatives designed to create a more enterprising culture that is good for the long term growth of the city and signals a move away from reliance on the public sector.
"We are very keen to embrace new powers which have been given to councils so that we can consolidate and expand our offer to business.
"We would be pleased to welcome the prime minister back to Plymouth again as we move forward on delivering growth."