Occupy Exeter protesters begin to leave cathedral site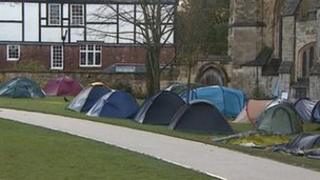 Protesters camped outside Exeter Cathedral have started clearing their tents and belongings from the site.
Occupy Exeter, part of a movement opposed to what it calls inequality and corporate greed, had about 30 tents on the Cathedral Green.
The group was given until Tuesday morning to move or face court action.
However, many of the group have moved to a derelict building near the green. A new camp was also planned north of the city, the group said on Facebook.
Anti-social behaviour
The protesters have been in place at the cathedral since November and previous requests by the diocese to leave the site were rejected.
They were served with letters by church authorities at the end of January demanding they leave and threatening legal action.
Occupy Exeter said it started clearing the camp on Saturday, but that members had moved into the nearby building which had been empty "for several years".
Spokesman Ghee Bowman said: "We are going to pop up when and where you least expect us, doing all kinds of action and raising awareness."
The diocese had said the group could keep a stall on the green to maintain its presence, but that was rejected by protesters.
The cathedral said it regretted having to take action to remove the camp, but claimed it had become a focus for anti-social behaviour.
Occupy Exeter said that it would begin setting up its new camp north of Exeter next weekend.