Devon boy drowned hours after being left at rest centre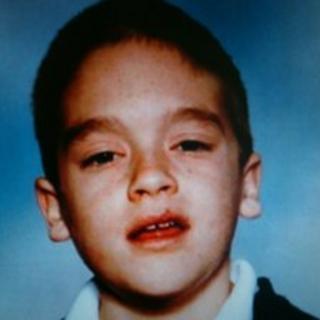 An 11-year-old boy died in a Devon respite care centre swimming pool hours after he was left at the centre by his family, an inquest has heard.
Adrian Pullman, who was from Ottery St Mary and had learning difficulties, was found in the privately-owned pool near Seaton in 2003.
Centre staff said they thought he was doing a "pretend dive impression".
The evidence was heard during the first day into a re-opened hearing first started more than eight years ago.
Adrian Pullman, who was not in council care, was in a respite care programme for families of children with special needs.
The accident, on 10 August 2003 at Little Farm, Southleigh, took place hours after his father handed him over to carers.
'Very long time'
He was airlifted to hospital after the incident but later pronounced dead. The inquest was opened and adjourned later in the month.
At the first day of the re-opened hearing, the inquest was told that Adrian could not swim, and had given people running the centre the slip for no more than five minutes when they went to prepare dinner.
He was then found floating face-down in the shallow end of the pool which was 3ft (1m) deep.
In a statement read at the hearing, Philip Croft, who ran Little Farm, said that he first thought the boy was doing "his pretend dive impression".
He added: "After a moment, I realised Adrian hadn't moved.
"[Another] child jumped in the pool and started to push Adrian over to our side of the pool.
"With the last push in our direction Adrian bumped his head on our side of the pool - not hard - but he still didn't lift his head out of the water."
The coroner, Dr Elizabeth Earland, recognised that it had taken a "very, very long time" for the hearing to re-open.
She said it was partly due to it being a complex case with many people needing to be questioned and consulted.
She also mentioned the issue of a lack of resources.
'Emotionally difficult process'
In 2009, Liberal Democrat peer Baroness Miller of Chilthorne Domer said in the House of Lords that the fact it had taken so long for Adrian Pullman's case to be heard was "inhumane".
The Ministry of Justice said it was committed to meaningful reform of the coroner system to ensure inquests were "timely, efficient and effective, and bereaved families are provided with the information and support they need throughout this emotionally difficult process".
It said it had been consulting with families and other groups about creating a Coroners' Charter which would set out the standards that bereaved family members and others could expect to receive.
Adrian's father, Roger Pullman, said that he hoped "things are on the change now" because the hearing had resumed.
He said: "It's very important.
"Hopefully it will mean I can put things behind me and move on with my life now."
The inquest in Exeter, due to last three weeks, continues.