Military Wives raise £500k for British Legion and SSAFA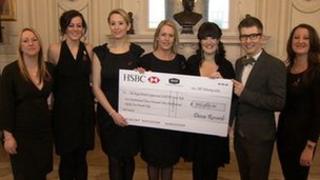 The Military Wives Choir, who topped the singles chart at Christmas, have raised more than £500,000 for charity.
The Devon women presented a cheque for £503,985 to the Royal British Legion and the Soldiers, Sailors, Airmen and Families Association (SSAFA).
The single, Wherever You Are, used lines from letters sent to their husbands in Afghanistan.
Choral director Gareth Malone said it was a "dream" to raise so much money for the charities.
He formed the group for BBC Two television programme The Choir.
"When I first heard this track and I though about the military wives - who they are and what they represent - I though it would catch the public's imagination, but I could never have predicted that it would go like this," he told BBC News.
"It's absolutely incredible... it's all a bit of a dream."
The single beat X Factor winners Little Mix to the Christmas number one spot, with the official Charts Company confirming it as the fastest-selling charity single since Elton John's Candle In The Wind in 1997.
Choir member Nicky Kenyon said the choir had helped the wives through a difficult period.
"We call it singing for sanity in Chivenor because it was the only thing that got us through the Afghanistan tour and kept us sane while our men were in danger," she said.
Laura Baldwin said knowing they had something to focus on had also given the husbands and boyfriends "peace of mind" while they were away.
Nappy changing
"It's doing something we've absolutely adored," she said.
"We love it so much... and it's an added bonus that we've raised so much money for the charities."
Laura Thompson and Susie Brady said they were "incredibly proud" of what the choir had achieved.
"We're normal housewives who change dirty nappies and look after the kids... we never saw it coming," they added.
The Royal British Legion said the Military Wives song was "inspirational" and had captured the strength and resilience of the Armed Forces, while SSAFA said the money raised from sales of the track would enable it to help more military families.
An album by the choir is to be released before Mother's Day, with proceeds going to the Military Wives Choir Foundation to help set up other choirs on military bases.