Capsized Girl Rona trawler recovered off Teignmouth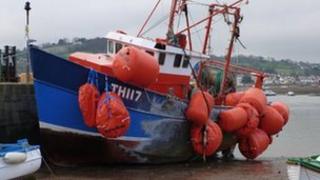 A fishing trawler which hit a sandbank and capsized off the south Devon coast over a week ago has been recovered.
Five fishermen were rescued from the Girl Rona after it capsized at the entrance to Teignmouth Harbour on 30 January.
Gear from the boat had anchored it down in the sand which had hampered rescue attempts, the harbour master said.
The boat was carrying about 2,000 gallons of diesel and nearly 20 tonnes of fish.
Harbour master, Commander David Vaughan said: "Quite a lot of gear was hanging over the side and anchoring her down which was hampering attempts to rescue her... we finally got to grips with removing it last night."
A recovery team worked through the night to cut away the gear and righted the trawler with the help of the tides and by pumping the water out.
"What seems to be a simple procedure can get more complicated as things go on," Mr Vaughan added.
The boat has been taken to Teignmouth Harbour.
He said the intention was to get the trawler sailing again.