Devon family thanks life-saver 'heroes'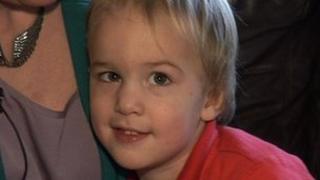 A Devon family whose son was flown to hospital after falling from a bedroom window is planning to raise funds for Devon Air Ambulance and Frenchay Hospital in Bristol.
Freddie Downing fell 20ft from the window of the family home at Bradworthy on Christmas Day 2011.
He was in a critical condition until New Year's Eve.
His mother Andrea thanked the air ambulance and hospital staff "heroes that saved Freddie's life".
The family - mother and father Andrea and Simon and children Maisie, six, Edem four, and twins Freddie and Minnie, three - were planning to visit friends on Christmas Day when Minnie came running downstairs.
Mrs Downing said: "She said Freddie had fallen from the bedroom window.
"I ran round and he was on the patio slabs, crying loudly."
'So terrifying'
A crew from Devon Air Ambulance flew Freddie to Derriford Hospital in Plymouth, but it became clear he had suffered a seizure.
Exeter-based aircrew transferred him to Frenchay Hospital in Bristol for specialist neurological care.
"It was all so terrifying," said Mrs Downing.
"Fred's condition was absolutely critical when we arrived at Frenchay, we were so frightened."
Freddie had two blood clots on the brain and later developed a lung infection.
As that worsened, he was transferred to Bristol Children's Infirmary (BCI), where he finally started to get better.
On New Year's Eve staff at BCI felt they could start to wake Freddie and he was discharged on 12 January.
Mrs Downing said: "We are just so grateful that Freddie is so well now.
"We are now planning to hold a range of fund-raising activities and I'm hopeful that the whole village will join in."