Elderly residents given days to leave Holcombe House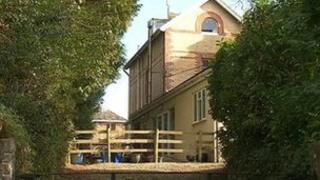 Eleven elderly people in a Dartmoor residential home have been given a week to leave.
Holcombe House at Moretonhampstead has gone into administration and is due to shut on Friday.
Relatives, who were told by letter on Saturday that the home was to close, are worried there will not be enough care beds nearby.
Devon County Council said it was trying to help residents find suitable accommodation.
The council said it was told last week of the owner's inability to continue to operate the home.
'Absolutely stunned'
A spokesman said: "We're working with the owner, residents and their families and with the NHS, to help find suitable alternative accommodation that meets the residents' individual needs."
Administrator David Kirk said: "It's a real shame they've had short notice, but it's unavoidable really.
"We're trying to keep it going as long as we can until people can be rehomed."
The care home has not been available for comment.
Fiona Avis, whose mother is at Holcombe House, said: "I'm trying to juggle working full time and phoning care homes.
"I visited three on my way home from work yesterday.
"Obviously it's quite a stressful situation."
Catherine Warner said she had had sleepless nights since she had learned her mother had to leave.
"I was absolutely stunned. I thought it was a hoax and couldn't believe it."