Crediton fire fund gets more than £6,000 in donations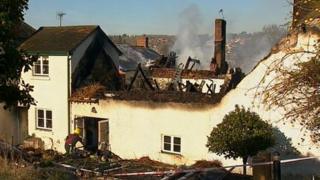 More than £6,000 has been donated to a fund to help families affected by a blaze which damaged a row of historic thatched cottages in a Devon town.
Crediton Town Council launched the fund after six properties were damaged in the fire which started on Thursday.
More than 130 items of furniture and hardware have also been donated, the authority said.
At its height, about 100 firefighters from across Devon tackled the blaze in Buller Court.
A council spokesman said families should start to receive the donations in the coming days.
People have donated more than £4,000 in cash and £2,300 in cheques, he added.
Earlier, Mayor Frank Letch said: "No-one has been hurt but there have been a lot of valuables lost."
The fire took hold in an historic part of the town known locally as the traditional birthplace of St Boniface.
It affected a row of five thatched cottages before spreading to a sixth property.