Animated Exeter Festival lights up city cathedral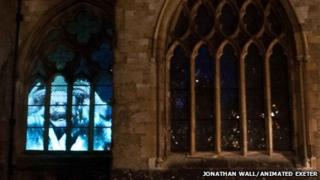 Thousands of people are expected to attend an annual festival held in Devon which showcases high-quality animation.
Animated Exeter, includes exhibitions, interactive workshops and more than 100 animated films.
The eight-day festival, which is in its 13th year, was originally founded by Exeter City Council in 1999.
It receives funding from the city council, Arts Council England, and the British Film Institute's transition lottery fund.
For the second year, Exeter Cathedral will be lit up with animation scenes projected on to the building and surrounding green. The "evolution" theme will include four animations inside the cathedral and four outside.
Festival director Susannah Shaw said the aim is to inspire young people and help them develop their talent and share ideas.
"We want people to come along not just to come and see films at animated Exeter, we want them to be inspired by them and have a go and make films," she told BBC News.