Seabird conservation helped by computer tracking model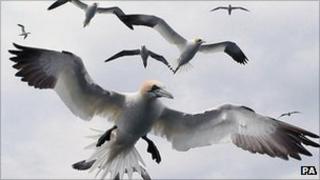 A computer model which predicts the foraging habits of seabirds could be crucial in protecting British wildlife.
The model was originally designed to predict the movements of gannets.
But researchers at Plymouth University in Devon believe the same technique can be used to track other smaller seabird species.
Conservationists will be able to use data to create accurate Marine Protection Areas (MPAs) to guard feeding grounds and seabird hot spots.
The government wants to establish a network of MPAs to protect marine ecosystems from human activities such as fishing to try to halt the decline in seabird populations.
'Simple concept'
The tracking idea was developed by former Plymouth University student Dr James Grecian, as part of his PhD research into the ecology of seabirds.
"The number of seabirds is declining and MPAs could limit the pressure from activities such as offshore development and fishing," he said.
"We know they work elsewhere in the world - they are already used in America, South East Asia and Australia to protect fish stocks - but the UK is currently lagging behind.
"Our approach offers one timely method to highlight important ocean habitats for seabird conservation."
He worked closely with researchers from Plymouth, Exeter, Leeds and France to create the working model.
It was tested using data from 25 gannet colonies to predict the birds' behaviour, distribution and feeding habits.
As well as details of foraging sites the model also included the birds' behaviour near the colony and where they gather in large "rafts" on the sea surface to rest and socialise.
Dr Stephen Votier, a lecturer in marine ecology, who was also involved in the project said although it was a "simple" concept, data from the model suggested it worked well.
"Therefore it could be applied to the large number of smaller seabirds that it is incredibly difficult to study using tags, such as storm petrels, terns and puffins," he said.
"We believe this research really could be really helpful to inform policy on marine protected areas."
The gannet study was published in the international scientific journal Biological Conservation.