Fruit trees planted at Follaton community orchard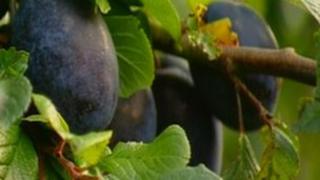 Residents have raised money to plant fruit trees at a new community orchard in Devon.
People in Totnes hope to enjoy the fruits from the apple, pear and plum trees set in the Follaton Arboretum.
The first trees were planted on Saturday by Mayor of Totnes, Judy Westacott.
"The fact money to buy the trees was raised locally speaks volumes for how people value our landscape and its traditions," she said.
Keith Rennells, from South Hams District Council, said the orchard was a welcome addition to the arboretum, particularly because Devon has lost almost 90% of its orchards since the 1950s.
"Projects like this will help ensure the traditional orchard, a focal point for communities across the country and a crucial habitat for flora and fauna, will continue to be a part of our landscape," he said.