Flybe service work increases at Exeter maintenance hangar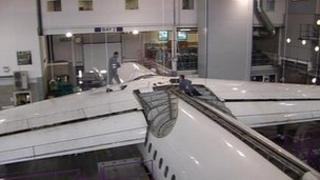 Devon-based airline Flybe has seen an upturn in business in its behind-the-scenes engineering operation.
Planes from all over Europe - and different airlines - are serviced at the company's vast maintenance hangar in Exeter.
Flybe said its maintenance workload in the past quarter was up nearly 50% on the same period last year.
It is also about to commission a second flight simulator for its multi-million pound training academy in March.
Despite difficult economic times for the UK aviation market, Flybe said its two behind-the-scenes facilities will underpin its long-term future in Exeter.
Flybe's training academy, which was opened officially last April by Chancellor George Osborne, provides courses for its pilots, cabin crew and engineers, as well as for third party customers.