J80 sailing event 'could boost Dartmouth economy'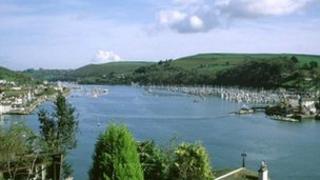 A major sailing competition could bring up to £1m into Devon this summer, a council has said.
The J80 World Sailing Championships will take place in Dartmouth from 9 June.
Eighty race teams with a total of 500 people will arrive in the town to compete in the competition.
South Hams District Councillor Hillary Bastone said it could bring in between "half a million and a million pounds to the local economy".
He described the championships as a "tremendous boost for Dartmouth".
Situated within a designated area of outstanding natural beauty (AONB), the competition will begin at Start Bay, Dartmouth.
The previous two championships were held in Newport, USA in 2010 and in Copenhagen in 2011.