Devon County Council cuts £20m in 2012/2013 budget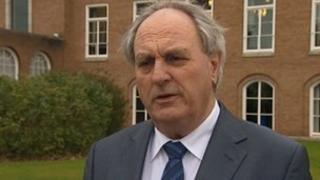 Bus routes and libraries will be affected in Devon after the county council approved cuts of £20m for next year's budget.
The road, transport and waste department will lose £7m and libraries will lose about £650,000.
The Conservative-led council said the cuts focused on council management rather than front line services.
Its new budget has been set at £507.5m for the 2012/2013 financial year.
Street light switch-off
John Hart, leader of the council, said: "I think we have protected services to the best of our ability and we're protecting them very well, we're looking after the old, the young and the vulnerable.
"We're still reducing our staff which is why the corporate side will have less to spend this year but we are now shaped in a way to face the 21st Century."
The budget includes a £5m cut (12%) to the council's corporate department, which includes human resources and media relations, while more street lights will be turned off at night, saving the council £17 per light annually, Mr Hart said.
"We have two very large bills coming in in the very near future. One is the county's commitment to the south Devon link road, the second is broadband for Devon, one is £17m and the other's £10m.
"Both are very important to the economy of Devon."
Some rural bus routes will be put under review and there will be cuts to some home-to-college transport for post-16 students in the county.
Brian Greenslade, leader of the opposition Liberal Democrats, said: "It will have an impact on particular pockets of the community.
"It usually affects a small number of people in a given community, but their needs are very important to them and they need to be able to get from A to B."
People services, which includes social services, will lose £9m - a 3% reduction in its budget.
Green Councillor Paula Black said: "You can't simply take away a whole loads of posts and a whole load of money and for the services not to be affected."
As part of next year's budget there will also be a renovation programme for minor roads damaged by severe weather and the council's share of council tax will be frozen.